There's a laundry list floating around of pieces you
must
have in your closet that are timeless: the little black dress, a white button-down skirt, a really great pair of jeans...However, not every thing you own needs to be timeless. In fact, it shouldn't be. It's a lot more fun when you can spice up your outfits with little trendy pieces and it helps you avoid falling into a style rut. So, here are pieces that you
should
buy according to trend.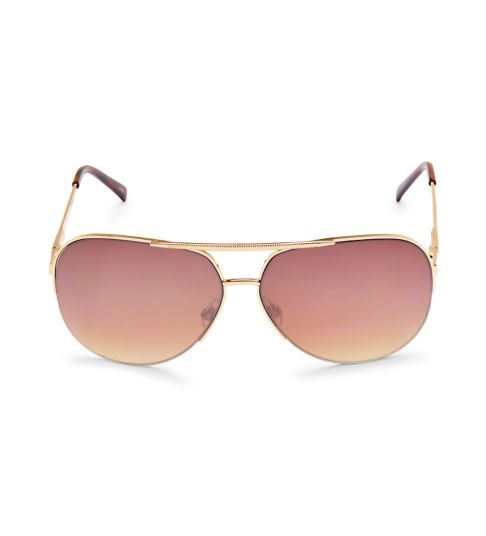 Glasses and Sunglasses
If you're a prescription glasses wearer like me, chances are you have to switch glasses every couple of years anyway, especially if you're young and your eyes are still changing. And while you
could
have the same pair of sunglasses, I find I lose or break sunglasses before they ever go out of style (which if why I never buy expensive ones.) So, if the trend for the season suits you, go ahead and try it out.
Lip and Nail Color
Trends and makeup have something in common: they both have expiration dates. So, whether the trend is bold lips or glitter manicures, go ahead and dip your toe in the water. If you hate it, you don't have to do it anymore and if you love it, you've found an easy way to boost your style.
Combat Boots, Denim and Other Trends that Always Come Back
While hi-low skirts could easily be a one-time thing, combat boots and chambray shirts are always swinging in and out of style, as are another handful of things. While these things may not be in style every season, or even every decade, they're worth keeping around.
Reversible Hair Trends
If you have waist-length hair and pixie cuts come into style, it's probably not the best idea to chop it off on a whim. However, if curls are in vogue and your usual straight 'do isn't: change things up a bit. Keeping your hair current is never a bad idea. Another idea: if you're bored with your long hair but don't want to go short, try the latest version of bangs or long layers. It will change things up a lot without the commitment.
Day to Day Jewelry
Pearls and diamond studs will always be in style. However, the cocktail ring you buy from Forever 21 and wear everyday is easily going to get enough wears to justify the price. Same goes for your favorite statement necklace or the members of your arm party.